Cobb salad gets a bad reputation with toppings that are sometimes highly processed and high fat. A healthy cobb salad is here: Kale Cobb Salad offers a simple mix of ingredients that are delicious while still nutritious.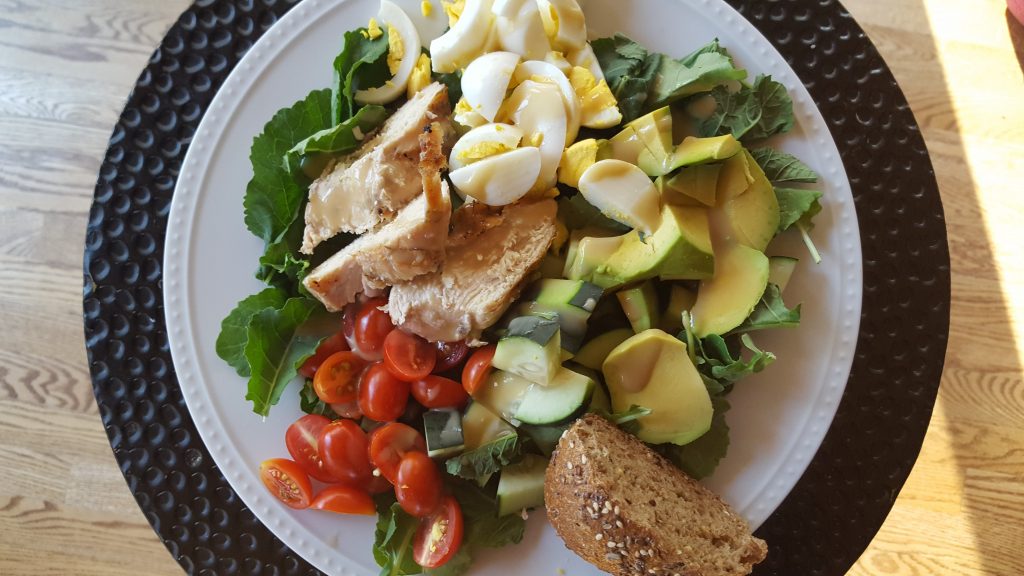 Kale Cobb Salad
Serves 4-5
Ingredients:
4 chicken breast, thawed
1 tbsp olive oil
1 5 ounce container of chopped kale (or mixed greens)
4 hard-boiled eggs, diced
handful cherry tomatoes, diced
1 cucumber, diced
1 avocado, peeled, pitted, and diced
4-8 tbsp honey mustard dressing (my favorite is Annie's brand)
Instructions:
Heat grill to medium heat.  Grill chicken until golden on both sides and cooked through.  Meanwhile, divide the remaining ingredients onto plates.  Slice chicken to top salads and drizzle with 1-2 tbsp honey mustard dressing.
Family-friendly tip: Many children will eat these ingredients separately and use honey mustard dressing as a dip.  Serve with a whole-grain roll and fruit for a complete, nutritious meal.