Perfect for a weeknight meal, this delicious combo is done in 20 minutes. Bursting with color and flavor – not to mention lean protein and veggies – this quick and easy meal with have your crowd raving. Oh, did I mention it is only 7 ingredients! Yes, this chicken and veggie stir fry is a winner-winner…chicken is literally for dinner.
Chicken and Veggie Stir Fry
Serves 4-5
Ingredients:
4 chicken breast, rinsed, patted dry, and cut into 1-in. cubes
1-2 Tbsp olive oil
8 ounce package rice noodles (this makes a pretty noodle-light dish – double up if your crowd chows noodles)
2-3 cups matchstick carrots
2-3 cups snow pea pods
1/2 cup teriyaki sauce – we love Fody Teriyaki Sauce & Marinade
ground pink Himalayan salt to taste (sea salt works too)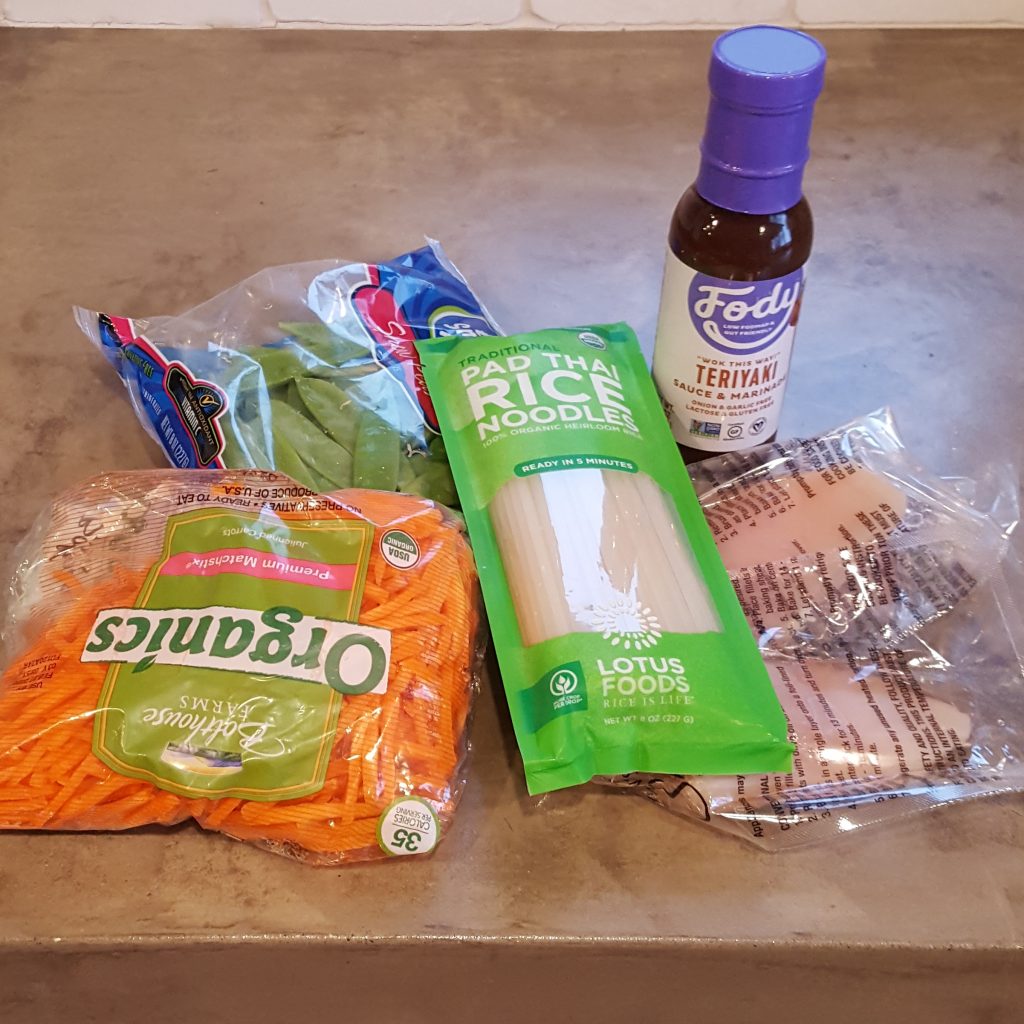 Instructions:
Prepare rice noodles according to package instructions. While noodles cook, heat olive oil in a large skillet over medium-high heat. Add chicken and season to taste with ground pink Himalayan salt. Cook, stirring occasionally until chicken begins to turn golden brown (about 3-5 minutes). Add matchstick carrots and snow pea pods and continue to cook, stirring occasionally, until veggies are vibrant in color and tender (about 3-4 minutes). Add teriyaki sauce and stir to coat chicken and veggies.
Once noodles are cooked through and tender, drain and rinse.  Add noodles to the chicken and veggie mixture.  Serve immediately and enjoy!
Kids in the Kitchen:
Measuring out carrots, snow peas, and teriyaki sauce are perfect jobs for kids to help with during dinner preparation.  If kids haven't tried rice noodles before, enjoy taste-testing a new but very non-threatening food.  If you have picky eaters, consider serving teriyaki sauce as a dip and noodles separate from chicken and veggies.  As always, encourage kids older than 2-3 years old to bring plates to the kitchen sink after dinner to help with clean-up.