Grilling season is here and this delicious flip on a seasonal classic will have your crowd raving. Chicken parmesan burgers incorporate Italian flavors with a casual twist. Not only are they delicious, but they are also fast. This 20-minute dinner keeps home cooking simple and yummy!
Roasted zucchini is the perfect side! The recipe is included below.
Chicken Parmesan Burgers
Serves 4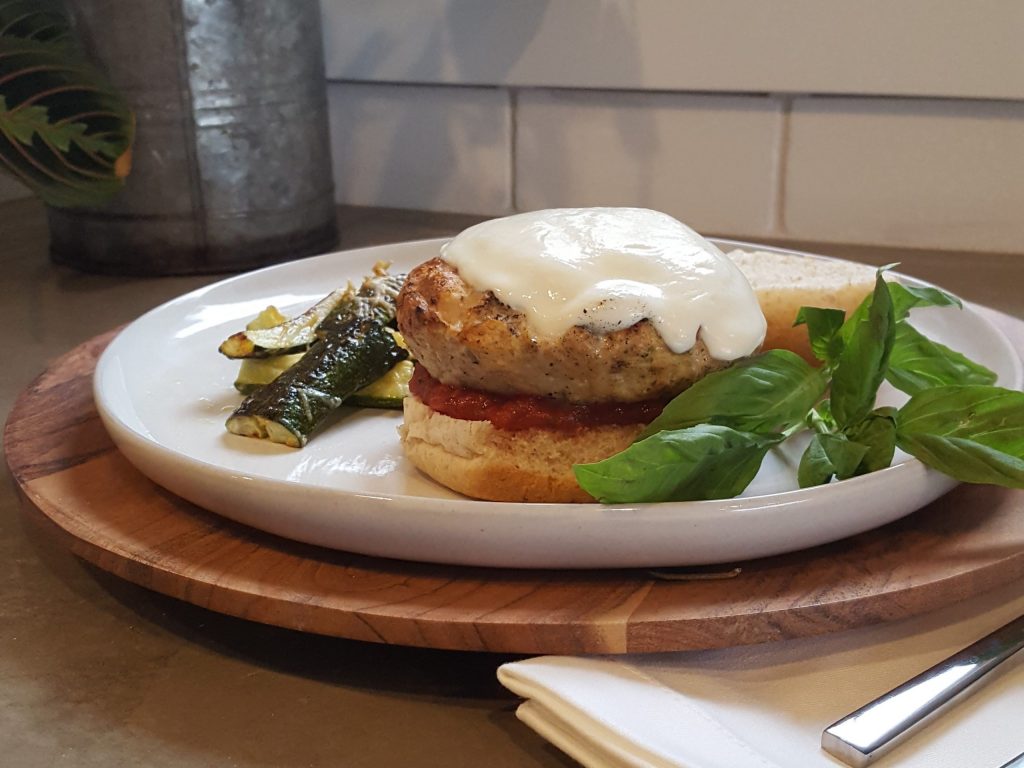 Ingredients:
1 lb. ground chicken
1 egg
1/3 cup bread crumbs
1/2 tsp garlic
1 tsp Italian seasoning
1/2 tsp pepper
1/2 tsp salt (ground pink Himalayan is my favorite)
sliced mozzarella
14 ounce jar marinara sauce
whole wheat hamburger buns
fresh basil, roughly torn
Instructions:
In a medium bowl, combine ground chicken, egg, bread crumbs, garlic, Italian seasoning, salt, and pepper until well mixed.  Divide mixture into four parts to form into burger patties.  Cook on grill over medium heat, 3-5 minutes per side, until cooked through and internal temperature of at least 165 degrees.  Place mozzarella on each burger for the final 1-2 minutes of cooking to melt.  Prepare each bun with 1-2 tbsp. marinara sauce, top with burger, and sprinkle with basil.  The remaining marinara sauce can be used for dipping.
Kids in the Kitchen:
Little hands-on-deck are perfect for grabbing ingredients from the refrigerator and pantry and adding in measured spices.  Older kids can help crack eggs and assemble burgers.  Everyone can help set the table and clear dishes after dinner!
Roasted Zucchini
Serves 4
Ingredients:
2 large zucchini, rinsed, ends trimmed
1 tbsp. olive oil
2 tbsp. grated parmesan cheese
Instructions:
Preheat oven to 425 degrees.  Prepare a small sheet pan with non-stick cooking spray.  Cut zucchini into 3-inch sections, then cut into fourths lengthwise.  Toss zucchini with olive oil.  Spread evenly on the sheet pan and then roast for 20 minutes.  Flip zucchini half way through cooking and sprinkle with parmesan cheese.