It is easy to do the thing we are "supposed" to do. Keep the job that you went to college to have. Stay in the house you are supposed to love. But it is our firm belief that in this life, anything is possible. Our guest today, C.G. Cooper, believes the same.
While married with two little kids, Carlos left a successful commercial real estate career to pursue writing. Here he shares how he made that leap, how his family supported him and helped make his dreams come true, and how he keeps those creative juices flowing.
Consider what your "anything is possible" future might look like!
Meet C.G. Cooper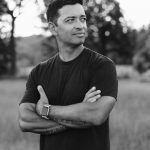 C. G. Cooper is the USA TODAY and AMAZON BESTSELLING author of the CORPS JUSTICE novels, several spinoffs, and a growing number of stand-alone novels.
With his unique voice and flair for creating characters you'd love to hang out with, C. G. Cooper imparts every one of his novels with messages that perfectly illuminate what Faulkner called "the human heart in conflict with itself." In them, characters confront hard truths about life, the necessity of war, and why and how good men and women die.
Drawing on his days as an infantry officer in the United States Marine Corps—a stint that came on the heels of a degree in foreign affairs from UVA—Cooper sifted his experience through his vivid imagination and created Corps Justice, the first novel in the beloved Corps Justice series. Thus, a band of characters was born that would go on to enthrall readers throughout 17 novels and counting. With more than 2 million book downloads and multiple appearances in the Amazon Top 100, C. G. Cooper remains one of the most successful USA TODAY and Amazon best-selling authors.
In 2020, he won the prestigious James Webb Award presented by the Marine Corps Heritage Foundation for his novel Chain of Command.
Cooper calls Nashville home when he's not traveling the country in search of the perfect vacation. When not enjoying the laid-back lifestyle of Music City, he's doing his best to add more novels to the growing list at cg-cooper.com.